How to upgrade your Zero1 Mobile Plan
Page last updated 23 Mar 2023

Upgrading your mobile plan has never been easier!
Get more of the best Zero1 has to offer by upgrading your mobile plan today to enjoy more data, more talk-time minutes, more SMS, and 5G speeds! Follow this quick and seamless guide on how to upgrade your Zero1 mobile plan and explore the possibilities more connectivity has to offer. 
Upgrade your Zero1 Mobile Plan with the mobile app
1. Launch the Zero1 Mobile App and login to your account
Login with your Zero1 mobile number and verify your login with a one-time password, or
Use your registered email address and password to login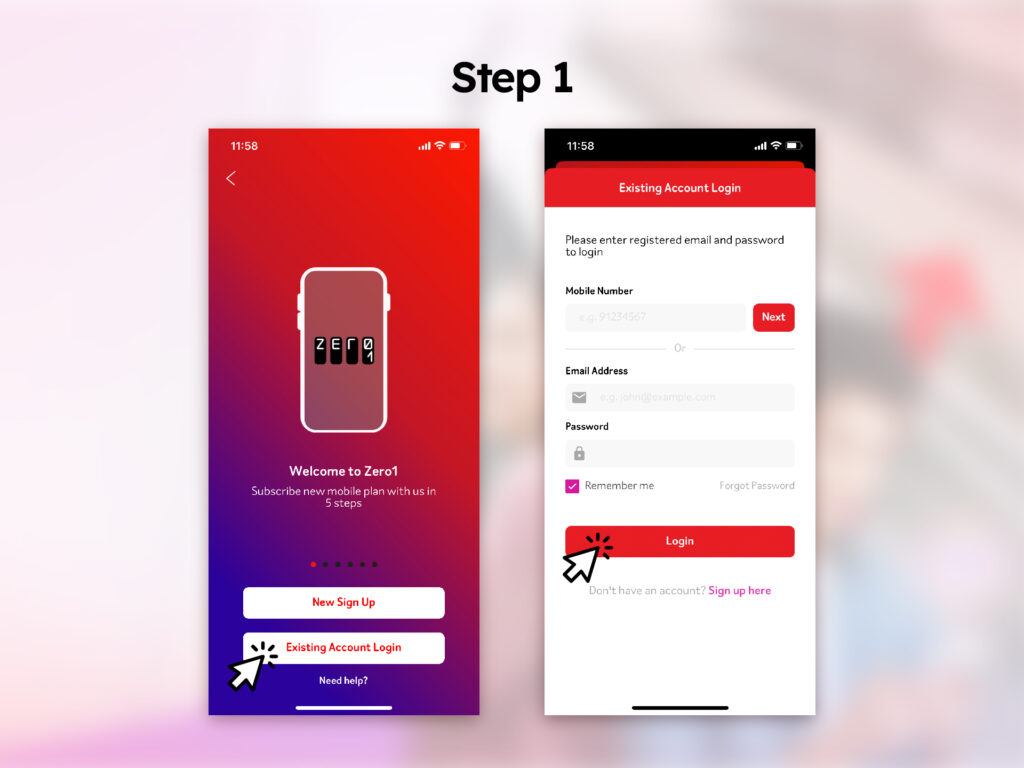 2. Select "Others" followed by "My Service Management"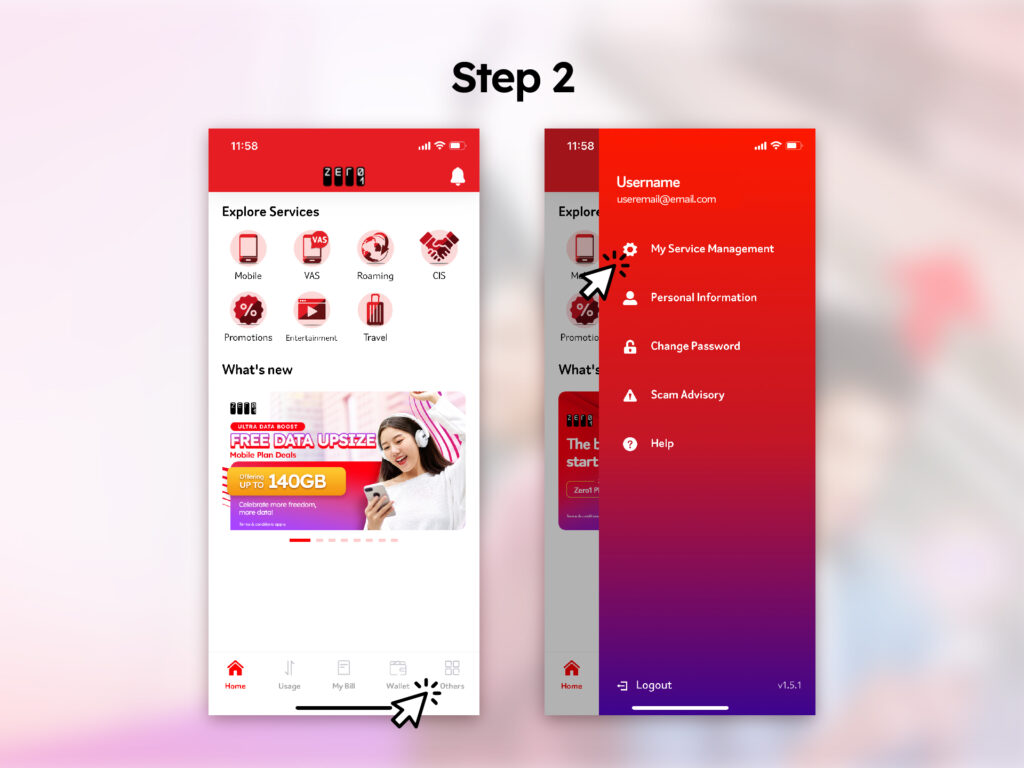 3. Select "Change Plan Now", choose your new plan and select "Confirm"
A request confirmation email will be sent to you, followed by another email with your new plan details.

Please respond to the email with your new plan details to confirm your request to upgrade.

Once we've received your confirmation, your new plan will be activated in 5 to 7 business days

and you

will

be notified via

 email.

Until then, you may check its activation status via your Zero1 account.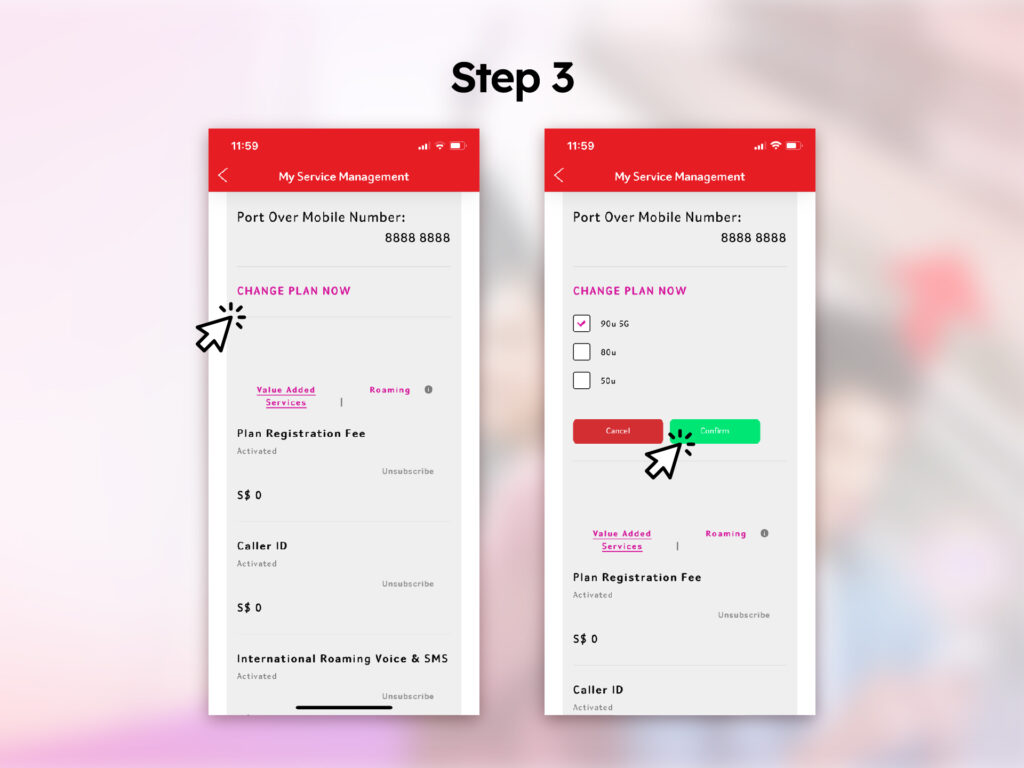 4. Enjoy the best Zero1 has to offer!
With more data on Singapore's most powerful network, you can now go out and make more memories without worrying every worrying of data limits!
Get to enjoy our current mobile plan promotions
We are running our Connect as One: Zero1 National Day Deals promotion to help you achieve data independence by upsizing your plans. You can also get to enjoy this promotion in conjunction with the free preferred mobile number that we are offering to you.
Here's a breakdown of how much data you can get for each of the mobile plans.
Mobile plan
Retail Price
Monthly
total data
Base data
Add-on data
1 GB data roaming*
monthly for 12-months
Classic
$10.00
50 GB – first 6 months
22 GB – next 6 months
12 GB
38 GB – first 6 months
10GB – next 6 months
No
50u One
$18.05
150 GB
50 GB
100 GB – Forever
Yes
80u
$25.15
130 GB
80 GB
50 GB – 12 months
Yes
60u 5G
$25.20
120 GB
60 GB
60 GB – 12 months
Yes
90u 5G
$32.20
140 GB
90 GB
50 GB -12 months
Yes
You can also visit our mobile plan page to get the details for each of the plan
*The 1GB data roaming are for Malaysia, Indonesia or Thailand only. Roaming services are not applicable to foreigners at the moment.
Plan upgrade is only applicable if your account is not suspended or blacklisted, and there is no outstanding balance
There will be no change to your billing cycle. Your bill will be pro-rated accordingly based on the date when your plan is successfully upgraded
Mobile plans are subjected to their respective terms & conditions
Zero1 reserve the rights to amend the terms & conditions of the contest, do check back on this page for the latest updates
We are happy to help, just message us on Facebook or send us an email at yes@zero1.sg should you encounter any challenges. 
Zero1 develops life solutions by making it #AllAboutYou, ensuring that you receive #OnlyTheBest of what we can offer so you may live your life with #ZeroLimits.
Zero1 is a licensed Mobile Virtual Network Operator (MVNO) that provides a number of mobile plans with unlimited data. Do check out our other offerings on the Zero1 website today.